NPR Music feels antique.
To some, maybe the podcast and music station has aged gracefully. To some, maybe Bob Boilen and Robin Hilton's weekly opinions on topics like Janet Jackson's most recent album and the 'dire' state of the music world still sound valid and original. But the thick layers of metaphorical cobwebs that line the walls of that podcast's recording studio in the minds of millennials is, well, undeniable. Millennials are omnipotent in the games of the Internet, so what is it that keeps NPR Music alive? What is NPR Music's currency? Where does their legitimacy lie?
I argue that it lies in Boilen's Tiny Desk Concerts and his team's original, simple and perfected decision-making in choosing artists, acts, and performance pieces to participate in the weekly off-the-cuff acoustic performances. The politics, genres, and 'boxes' of the music industry melt away. In a tiny book-filled room, it is an artist and their craft; nothing else, nothing more.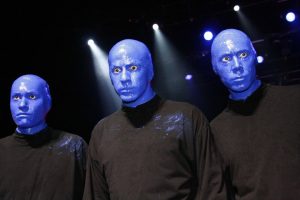 Need proof? Unsure of my confidence? Take a look at the most recent Tiny Desk Concert. Reemerging from the banquet feast of fame secured from their Las Vegas stint, the Blue Man Group appeared on this week's acoustic concert. The three blue-faced men are silent, beating at their PVC pipes and strumming their homemade spinulums (an original Blue Man Group instrument that is part slide guitar, part bicycle wheel), and extensive xylophones while spoken word tracks play overhead. It's simple, rhythmic, out-of-the-box weird, and hilarious. Three blue men tap out a funky beat while the audience is told to breathe their dragon breath and visualize a collective harmony of "winning, winning, winning."
T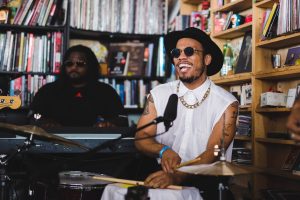 hen look too at the Tiny Desk performance held four weeks prior. It was Anderson .Paak & The Free Nationals, a more current but equally original 21st crew of genre-benders, that brought young eyes back to Boilen's ongoing project. Soul layered on top of hip-hop along with something undeniably sexy and smooth, Anderson .Paak & The Free Nationals needed this simplified venue to fully convey their inimitable talent. It allowed us millennials – those who have been kissing the unnoticed, worn-out feet of Paak and his crew for too long – to legitimize what the 21st century has made true for so many artists: technology didn't kill originality. So to remind ourselves of that argued reality, let's keep Boilen's bookcase-lined operation intact for a little bit longer, yes?