CONVERSATION VS. BROADCAST

I'm sure you've seen it before.

A popular artist is starting to be a liiiiittle more active on their socials than normal. Or maybe they start a senseless twitter storm with some off the wall comments. Or better yet, start a "I'm probably not going to win, but the publicity is worth it" rap battle with Eminem.

You might catch yourself thinking, "where did THAT come from?"

And then hint by hint, piece by piece, the ulterior motive is finally revealed…
"MY NEW ALBUM HITS SPOTIFY NEXT WEEK!"

Aaah. So, you've been gone for 4 months and now you've got something to promote. Got it. And on the cycle goes for so many major stars and thousands of indies who follow their lead.

That tactic is a very one-sided approach to social media. Mainly, it's only focusing on promotion and that's one of the quickest ways to turn off new fans and tire out existing ones.

According to this 2019 study by Sprout Social, "too many ads" (43%) and "too many promotional posts" (35%) were two of the top reasons why users would unfollow brands.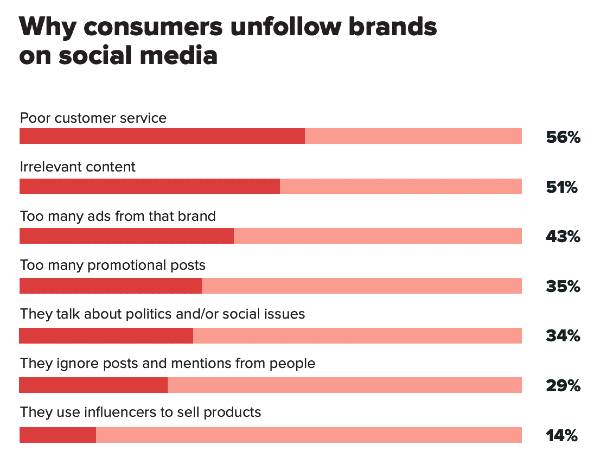 So, what can you do to keep your followers tuned in? Another way to ask the question is this: how can you be the content and not the commercial?

The best way is to be consistent and one of the easiest ways to stay consistent is to create your own series. Seriously, there's no reason you can't establish your own bingeable content online.

++ 3 Types of Consistency That Will Lead to Social Success

Not to say it's really easy to do, it will take work. But it used to be extremely difficult and very expensive to reach a large audience of people. But now with the popularity of social platforms, that's no longer true.

In fact, think about this….

Any one social platform has more than enough of YOUR target audience to sustain your passion full-time for the rest of your life.

Any ONE social platform has more than enough of YOUR target audience to sustain your passion full-time for the rest of your life.

No, that wasn't a typo, I just thought it was important enough to repeat. With that in mind, let's create a vehicle for you to share your music and your message consistently.

Let's create your series.

Or if you already have a regular show or weekly post you deliver, drop a link and let us know in the comments! We'd love to tune in!

A SHOW IS BORN

First of all, let's mention delivery. Your show could take on any number of formats, but let's just acknowledge the wide-reaching benefits of video. If you've got the personality and ability to be on screen for your series, all the better.

But be realistic. While video is the medium that will have the best chance at a wider audience, you still want it to have energy and provide some sort of entertainment value for your fans.

With that said, here are 6 things to consider when developing your series —

Is it conversational?
Conversation is an effective way to connect with your fans that encourages them to come back. A few ways to accomplish this?
Be authentic. Social media was intended to be a conversation not a broadcast. Think of it more as "here's what I would say at a house party" vs. "this is my pitch on the radio."
Talk directly to the audience in your main content. If it's video, you can have a dialogue with viewers throughout the videos, or only in a certain portion.
Los-Angeles based H'Atina Gillard goes live every Wednesday with a "Happy Humpday" video with her Facebook fans. It's consistent, conversational content that her fanbase has come to expect (I should know, I'm one of them). And more often than not, it's just a word of encouragement with occasional show updates tagged on as well.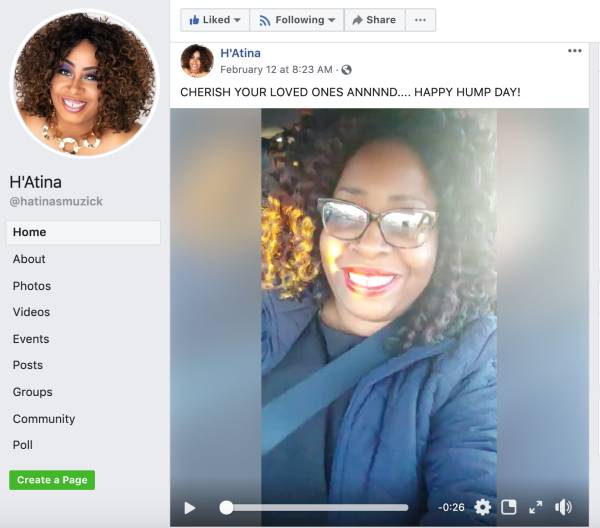 Is it accessible?
When making new content, consider that not everyone will have seen your previous episodes or posts. Your latest upload might be the first thing they've ever seen from you, so keep these ideas in mind…
Don't tie each post to the last one. You want to have them make sense on their own without needing a backstory.
Refer to other episodes in your post or even link to them. Help fans consume more content and make it easy for them to fall down the rabbit hole.
Basically a good rule of thumb is: try limiting any season long story arcs!

Is it interactive?
One of the unique advantages of social media is that you can give your audience the chance to participate in what you make.

Our friends in the Midwest Originals out of Indianapolis IN have had recent success with their "Name That Tune Tuesday" videos. Each Tuesday they upload an easily-edited video with 3 musical riffs and see if their fans can name them.

Each video ends with ain interactive call to action: Let's see who's got the fastest ear! 👂🎸🤘🏼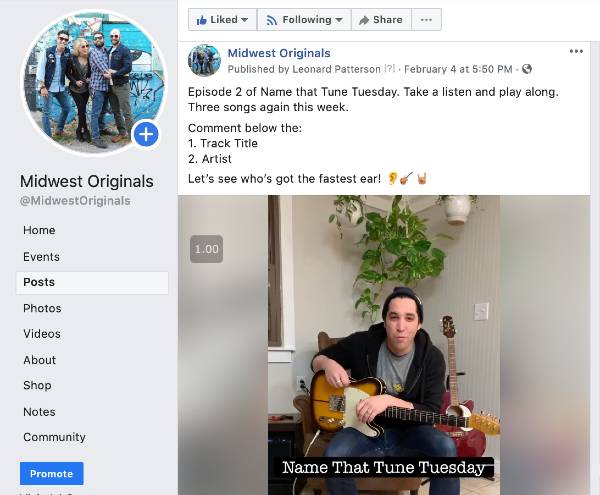 Other ways to consider making your series interactive…
Ask questions directly. You can respond to their answers in comments or in a subsequent video.
Ask the audience to submit ideas for future videos. Like taking requests in a poll on which songs they'd like to see you cover.
Is it sustainable?
When you've found something you enjoy that resonates with your fans, your goal is to maintain that interest over time.

Note – your series does not have to be you in front of a camera performing your music. It CAN, but don't limit yourself!

Here are some ways to come up with a sustainable idea:
Make it easy to produce. You want to come up with an idea that you can complete fairly easily and relatively quickly. The harder it is to make, the less likely you are to make it.
Be realistic. Understand what tools you need to produce each episode of your series. Consider how often you intend to add new content and compare that to your other goals and expectations.
Is it consistent?
When it comes to consistency, you want to consider more than just a consistent publishing schedule. Think about the format, branding elements, personalities, and tone.

Putting out a series of random and unrelated videos will do more to confuse your audience than it will to connect. Here are a few ways to think about consistency…
Branding. Try coming up with a well-branded idea that can sustain interest over several episodes.
Consider publishing videos on a certain day of the week (or even multiple days) to help set the expectations for your fans.
Feature a consistent format or personality. The person or people in the video don't have to be identical, but it will help.
Also, don't get bogged down in irrelevant things like hierarchy. If the band leader isn't the most charismatic person in the band, that's ok (I'm talking to you quiet, reserved band leaders). You do you and lead the band, make the setlists, and ensure nothing's funny with the money.

If you want to start a "behind the scenes" series and your bass player is the one with the on-camera personality, let 'er rip!

An awesome example of inspiration and showing up consistently is the Nashville TN artist Dawn Beyer. She shows up several times a week with a virtual tip jar and performs original music in "Beyer's Backstage Bar" for her 92k fans on Facebook.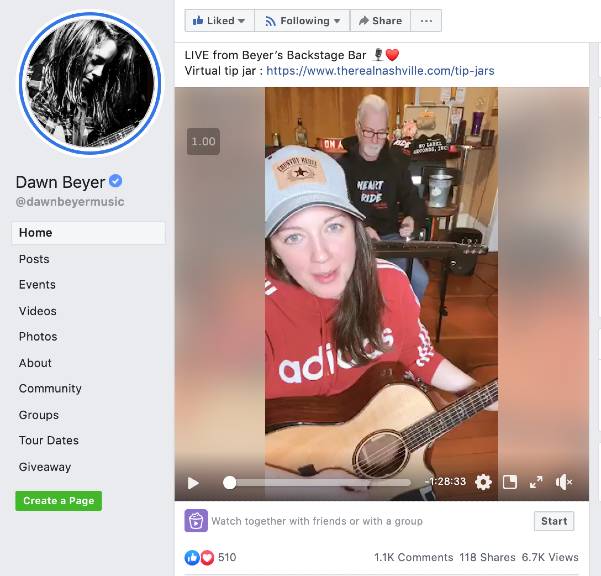 Which brings up one other point…

Are you inspired by the idea?
Regardless of who is on camera or creating the posts, you'll want your videos to be seen as authentic—and this comes naturally if you're truly inspired.

Avoid making content just because you think they'll be popular. In the long run, creating videos you don't want to make will most likely lead to frustration and you'll just stop.
SERIES IDEAS AND DELIVERY

Now you've got a checklist of things to consider, let's get the idea down for your show. What concepts can you use or spin off of that will connect with your fans and keep them tuning in?
Start your own online concert series — do you have a creative way to turn your practice space or living room into a "virtual venue"?
Record behind-the-scenes songwriter sessions – show us your process of writing songs or collaborating with other writers
Entertain your fans with a recurring contest — Name That Tune Tuesday is a great example but could also easily be done with a poll
Sharing inspiration — instead of posting a quote image, make it a video and offer your take on the quote
Share a weekly post from a non-musical passion — are you into something else creative?
Do you practice once a week with your band? Take us there and let us know what you're working on.
Do you have a recurring house gig you play on a regular basis at the same venue? Make us a part of it.
Did you figure out a reason to buy gear every week? Take us with you or do gear reviews.
Although the examples we shared happen to each be on Facebook, there are multiple ways you can deliver your series. Consider what is easiest for you to maintain AND where your ideal fans already are.
Create your series on Youtube
Make a podcast with Anchor
Start a series on Facebook Watch
Go live on your Instagram
Develop a branded Twitter chat
Create a post on ANY social platform
++ Host a Gig in Your Own Space

THE CHALLENGE
Start something. Start anything that shares your story, your music, YOU on a regular basis. It doesn't have to be daily or weekly, but set up a consistent schedule and BE THE SHOW that your audience tunes into on a regular basis.

Entertaining your fans starts waaaaay before you get on stage.
So the scene is set — you've got no gatekeepers in your way. You've got access to fans and distribution channels on which to share your message. The only thing left for you to do is set up your series and…

SHARE. YOUR. GIFTS.

Don't forget, if you already have a regular series drop a link in the comments!

———————

Leonard Patterson is an avid fan of all things New Edition, an indie-focused booking agent, a frequent hi-fiver, and a certified digital marketer. Since stepping off stage as a band manager/front man of a 6-figure party band, he launched Indie Band Coach with a mission to help indie bands reach more fans and book more gigs. When he's not working, he's most likely at a live music event, analyzing Marvel movies, or soaking up vitamin D at the beach with his wife and son.
Want more fanbase and social media tips? Subscribe to the Indie Band Coach YouTube Channel and keep your eye out for "The Weekly Social" series starting in March.