Lil Nas X has dominated the music news cycle this past week thanks to the controversy surrounding the new music video for his song "MONTERO (Call Me By Your Name)." The song, whose title is a nod to both the "Old Town Road" singer's real name (Montero Lamar Hill) and the famous gay love story Call Me By Your Name, tells the story of a closeted man that Lil Nas X fell in love with last summer, and has been called a "ceberation of queer sexuality." Its video, however, which follows Lil Nas X through a world of biblical imagery and ends with the 21 year-old star giving Satan a lap dance, has received less than positive feedback from conservative audiences.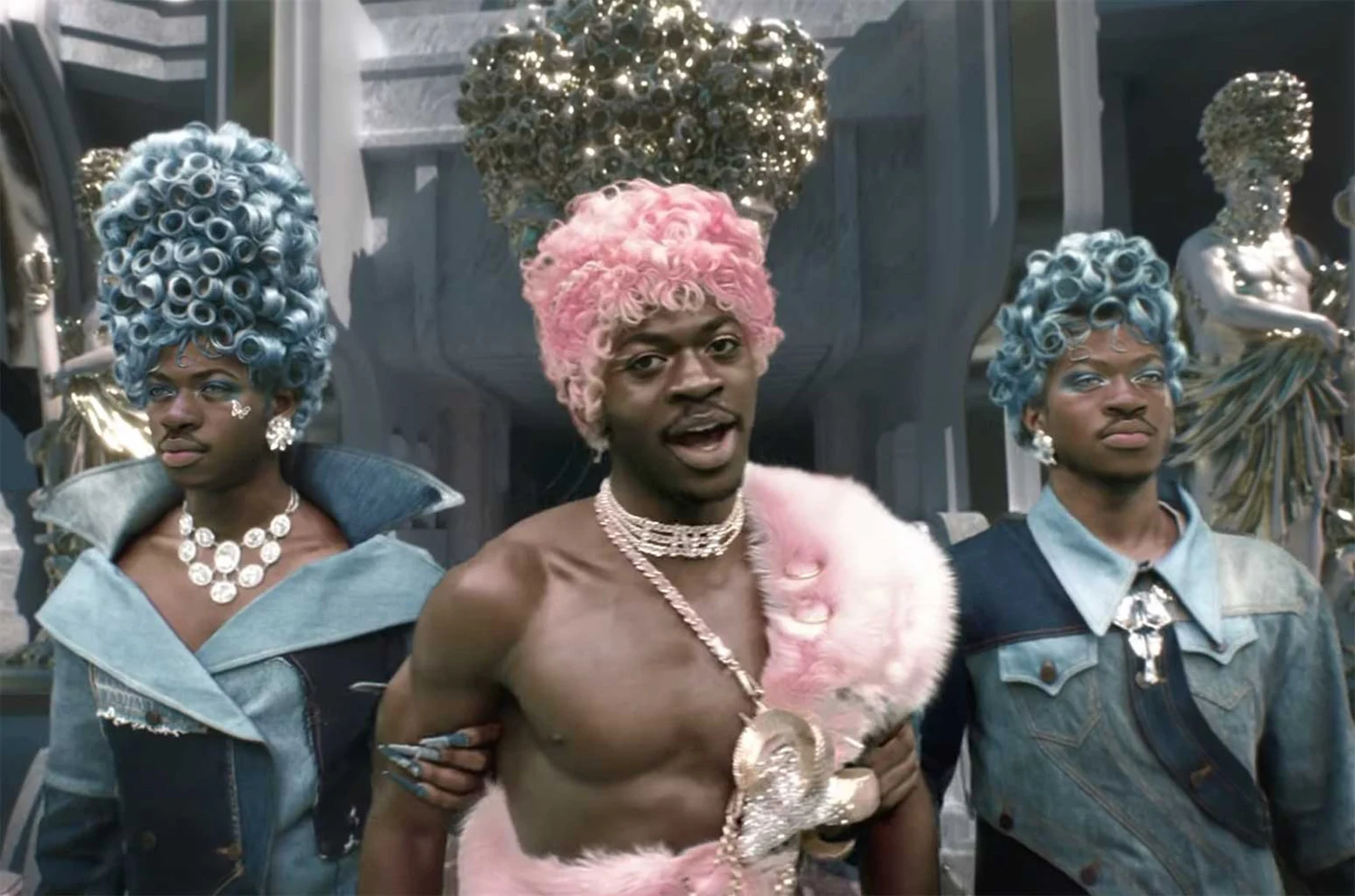 The fantastical, "unabashedly queer" music video begins in the land of Montero, where Lil Nas X walks around the Garden of Eden and proclaims that he is in a place where he does not have to hide who he is anymore. He then ventures throughout the setting, meets an erotic snake (representing the villain of Genesis), faces judgement from dozens of mystical representations of himself, and is ultimately killed and sent to heaven. Once in heaven, Lil Nas X descends to hell on a stripper pole, where he "harnesses his sexuality to seduce the devil," gives Satan a lap dance, and then kills him and takes his crown for himself.
The video's mix of sacred, sexual, and queer imagery has upset many prominent conservatives across the nation including Candace Owens, who said that Lil Nas X is "keeping black America behind," and former US Marine Matthew Betley, who described the video as "sick and depraved and an attempt to destroy our society." Fox News unsurprisingly joined the conversation, instigating the homophobic discourse that Lil Nas X was corrupting children and destroying the country.
The conservative backlash only increased with the announcement of Lil Nas X's "Satan Shoes." The sneakers, which are custom Nike Air Max 97s, have "Luke 10:18" printed on the side (the biblical passage discussing Satan's descent from Heaven) and claim to contain a drop of human blood in the midsoles. Priced at $1,018 each, all 666 pairs of these exclusive shoes sold out in less than a minute. Although Nike has sued the MSCHF Product Studio due to trademark infringement, every pair was sold and believed to be shipped before Nike could prevent it.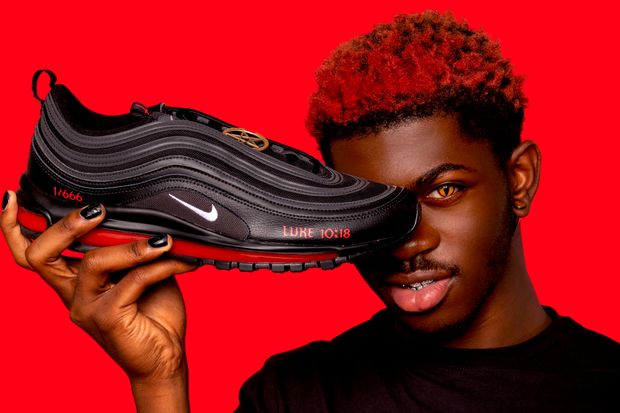 Conservatives saw these shoes as further evidence that Lil Nas X is seeking to manipulate children with his "satanic behavior." Dakota Governor Kristi Noem tweeted about the sneakers, saying "Our kids are being told that this kind of product is, not only okay, it's 'exclusive.' But do you know what's more exclusive? Their God-given eternal soul." Tennessee pastor Greg Locke also joined in, calling the shoes "a bunch of demonism, devilism, and psychotic wickedness," and many other American Christians have claimed they are in "a fight for the soul of the nation" against people like Lil Nas X.
While this intense Christian moral panic is aggressive, it was not unexpected. On March 26, the release date of "MONTERO (Call Me By Your Name)," Lil Nas X tweeted a letter to his 14 year old self discussing his new song, saying that the release is "very scary for [him]" and that he knows "people will be angry." Clearly prepared for this negative backlash, the singer took to Twitter after the song's release to fire back at critics. He responded to governor Kristi Noem's complaints, saying "ur a whole governor and u on here tweeting about some damn shoes. do ur job!" and shot back at rapper Joyner Lucas' comments that the Montero video is not child appropriate by tweeting "I literally sing about adultery in old town road. u decided to let your child listen. blame yourself." He also posted a fake apology Youtube video, which cut to the music video's lap dancing clip, and released a "censored" music video, which showed a public toilet with the caption "Montero but ur in the bathroom of hell while lil nas is giving satan a lap dance in the other room."
In addition to sharing these amusing clap-backs, Lil Nas X has also been using social media to seriously discuss the importance of "MONTERO (Call Me By Your Name)" and its implications on the music industry and queer culture. Upon its release, the singer said he intended for this song to push the idea that people should "stay the fuck out of other people's lives and stop dictating who they should be," and on Twitter last week, he said to his conservative critics: I spent my entire teenage years hating myself because of the [things] y'all preached would happen to me because i was gay. So i hope u are mad, stay mad, feel the same anger you teach us to have towards ourselves.
While the backlash sparked by his new song was not pretty, it was a key part of Lil Nas X's brilliant marketing strategy. He knew that his music and video would generate controversy, so he took advantage of the negative responses as a way to place his music in the spotlight and maintain relevance. Once the backlash peaked, he further fanned the flames by tweeting at his critics, releasing the "Satan Shoes," sharing memes, and retweeting videos from his TikTok dance challenge (#PoleDanceToHell). Thanks to attention drawn to "MONTERO (Call Me By Your Name)" by the widespread conservative outrage, the song debuted at Number 1 on the Billboard Hot 100 Chart and received almost 47 million US streams within its release week. It was even featured on a recent SNL sketch, in which an actor portraying Lil Nas X gave God a lap dance.
Upon its release, Lil Nas X said that he hoped "MONTERO (Call Me By Your Name) would "open doors for many other queer people to simply exist," and since then, he has undeniably succeeded in moving the discourse surrounding religious and sexual identities in a more progressive direction. The only question is: what will he release next?