Live streaming for musicians
It's been a long few months…Live music is still on pause and live streaming isn't going anywhere. We've been live streaming with Gigmor musicians since the very start and we've learned a lot in the process. We decided to put together a Live Streaming for Musicians primer for anyone looking to get started. It's a great way to reconnect with your fans if your gigs got canceled and also a great way to start performing live for the first time.
What platform is best for musicians?
There are now several live streaming platforms to choose from. Some are completely free for the audience and others offer ticketing services. Most offer at least some way to collect tips from your fans via a virtual tip jar. The big names should be familiar at this point: Twitch, YouTube and Instagram Live. Which platform you choose should depend on how you plan to perform and where you are in your career. If you're able to sell 50+ tickets IRL, you should check out some of the ticket based services. For this guide we're going to focus on the more open platforms. There are also services that allow for multi-streaming (streaming to more than one platform at once) like Restream but depending on your needs, it may cost $$$.
Twitch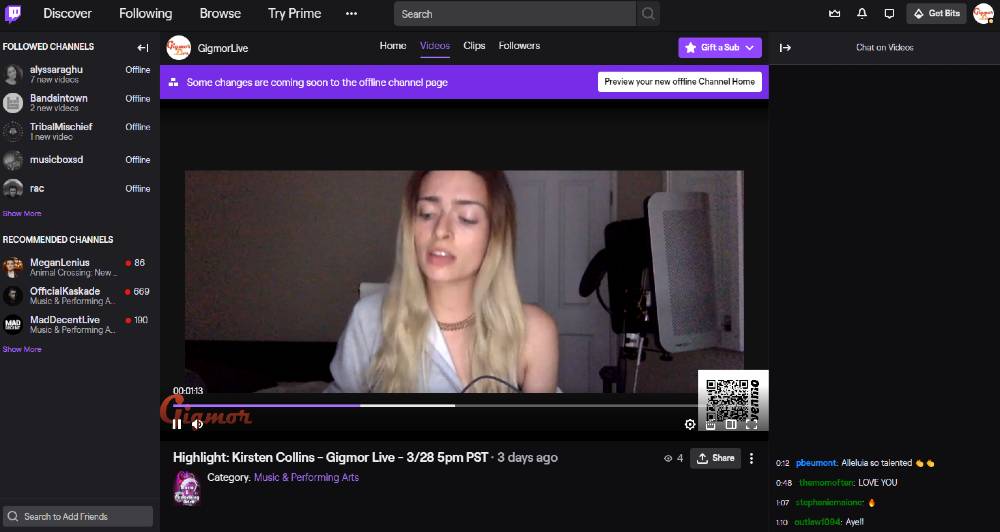 Gigmor Live, our own live streaming show for musicians, is broadcasted on Twitch so that should tell you a little bit about how we feel about the platform. Twitch has a huge built-in audience of gamers and it was one of the first live streaming platforms that musicians started gravitating towards once quarantine went into effect. It's completely free to use for the audience but there are several ways to collect tips and monetize your streams.
The primary way that streamers monetize their streams on Twitch is through fan subscriptions. When someone subscribes to your channel they are paying $4.99/month and you split that revenue with Twitch. The exact revenue split is determined by your tenure on Twitch as well as some gamified stats on your channel's performance. For their $4.99/month, the subscriber gets ad-free viewing on your channel, custom channel emojis and a few other perks. Your viewers can also 'tip' you using Twitch currency called 'bits'.
Twitch is a great all around choice to start streaming because it is default free to use for your fans but there are options to monetize without paywalling. On the technical side, you will need to use broadcasting software like OBS or Streamlabs to stream. Twitch works with Restream and other multi-streaming services so streaming on Twitch is not an all-or-nothing proposition. The Twitch mobile app is excellent and also allows you to go live from your phone, albeit in a much more basic format.
YouTube
If you already have a presence on YouTube, this is the no-brainer choice. There are some other, very obvious reasons why YouTube is a good choice for anyone: it's one of the most visited sites in the world, there is a huge built-in audience, it requires no sign-up to watch videos or streams etc.
That being said, YouTube has not put a lot of effort behind streaming. In fact, it's not totally obvious where to watch live streams on YouTube if you were just browsing the site. It lacks some of the categorization that Twitch has which makes it very simple to find what you're looking for. YouTube studio has an in-browser tool to help you go live with your webcam but if you're using a more complicated setup with multiple cameras, microphones or you're using backing tracks, you will need broadcasting software like OBS. YouTube is compatible with Restream and other multi-streaming services, as well.
Instagram Live
The biggest advantage that Instagram has as a live streaming platform is that it is very simple to go live. You can go live straight from your phone (which has technical advantages as a streaming device) on an app that you're probably already used to. Your followers, which you've probably been accumulating for the past few years, will receive a notification immediately. Phones are excellent streaming devices because they are designed to send and receive real-time video and audio over occasionally unstable wireless networks. Even phones that are a few years old would have no problem meeting the technical demands of a live stream.
The only disadvantage is also how simple it is. You can ONLY go live from your phone, meaning that the only camera and microphone you can use are your phone's. You can forget about having several different camera angles, microphones, graphics, backing tracks etc. It's just you and your phone. For some musicians, this is all you need. Playing an acoustic set? Instagram is perfectly suited for that. Anything more ambitious and you'll have problems. As far as monetization goes, there isn't much here, so if you're looking to earn even a little money, you'll need to go elsewhere.
Broadcasting software
Whichever platform you decide is best for you, you will likely need broadcasting software to send your stream to that platform. We've mentioned Streamlabs and OBS a few times. OBS is an open source broadcasting software and Streamlabs is a 'fork' of OBS. Streamlabs is based on OBS code but with several bells and whistles added with advanced functionality for streamers. Streamlabs, subjectively, has a nicer UI and includes many useful features that OBS does not such as a chat moderation bot and support for 'widgets' (animated gifs and sound effects that play when someone subscribes to your channel or during other similar actions). Both are excellent choices however. Try both and see which you prefer and which your computer runs better.
Computer
Speaking of your computer, you'll need a good one. Streaming high definition video and audio simultaneously is very taxing on your computer and particularly on your graphics card. If you've watched live streamers before you might have noticed the flashy PC's that many have with the latest and greatest graphics cards, hundreds of gigs of RAM, liquid cooling etc. etc. Not to worry, you don't need anything quite that extravagant. A somewhat new machine (2016 and later) with at least 8GB of ram will likely be just fine. There are many settings that can be changed within your broadcasting software to improve the performance of your machine, take a look at some of them here.
Mics/Cameras/etc.
We've had great luck with webcams and laptop microphones but if you have better equipment on hand, why not use it? The best way to incorporate more microphones or to use backing tracks, effects and more advanced audio processing is to use a DAW like Ableton Live or Apple's Logic Pro. In order to route the audio from your DAW into your broadcasting software, you'll need to use Soundflower, VB audio cable or something similar. These pieces of software will allow you to route audio in your computer from any program into another so they are perfect to route your master output from your DAW into Streamlabs or OBS.
As far as cameras go, webcams are designed explicitly for live streaming. They are excellent at sending a real-time high definition video feed and typically require little to no setup at all. They plug straight into a USB port and that's it. Most webcams will be automatically detected by your broadcasting software. On the other hand, DSLR's or even your iPhone camera can be used to stream video. However, the amount of setup required is substantially more than webcams. Different makes and models of DSLR's will require different software packages and some will just not be able to send real-time video no matter what. iPhone cameras have excellent quality and can easily broadcast real-time video but getting them to communicate with your broadcasting software requires additional software.
Wifi
The final technical ingredient is, of course, your Wifi! You need a somewhat fast connection and stability of that connection is essential. Your upload speed is the more important number here. It's best to have at least 10mbps upload speed to ensure your ability to stream audio and video to your platform of choice. Be on your 5ghz wifi network because this will have faster performance than 2.4ghz but ethernet is strongly preferred if available.
If anything can be taken by the volume of new streaming platforms coming online as well as the huge amount of interest in streaming by musicians these past few months, it's that streaming isn't going anywhere anytime soon. The above is meant to give you a jumping off point to learn more about streaming. The sooner you dive in, the better you'll be able to figure out what works for you and what you like. The easiest way to get started is to do a stream with Gigmor! We guide you through the technical process and help promote your show to music fans everywhere. Click here to learn more and apply for free!