On Sunday, the GRAMMYs announced all 25 artists set to perform at music's biggest night on March 14th. While the Recording Academy usually reveals featured artists across multiple days, this year all the performers were announced in one Instagram post: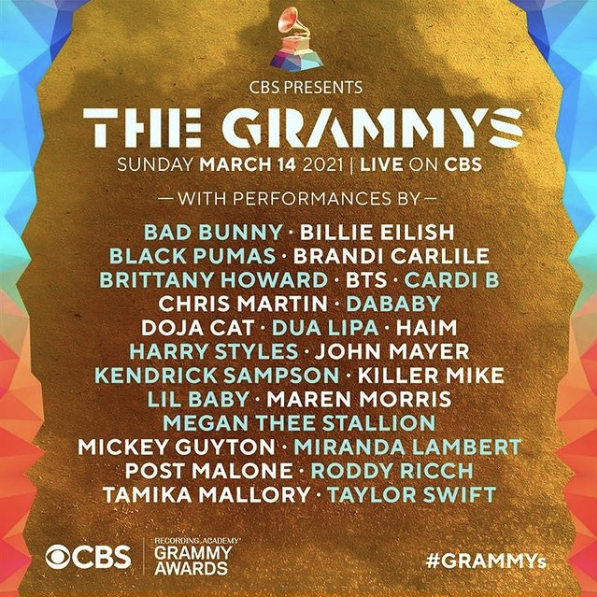 The performers include Dua Lipa, Taylor Swift, BTS, Billie Eilish, Harry Styles, Post Malone, Megan Thee Stallion, John Mayer, Bruno Mars, Bad Bunny, Cardi B, Doja Cat, DaBaby, Roddy Ricch, Chris Martin, Lil Baby, HAIM, Maren Morris, Black Pumas, Miranda Lambert, Brandi Charlie, Mickey Guyton, Kendrick Sampson, Killer Mike, Tamika Mallory and Brittany Howard.
Every performer is a 2021 nominee except for Cardi B and John Mayer. On this list, Taylor Swift, Dua Lipa, and Roddy Ricch hold the most nominations with six nods each, while Beyoncé, the most nominated artist of the evening with nine nods, will not be performing.
While for some big names like Swift and Mayer performing at the GRAMMYs has become a somewhat regular occurrence, for half of this year's artists it will be their GRAMMY performance debut. Some of the musicians celebrating this milestone include BTS, Doja Cat, Harry Styles, HAIM, Megan Thee Stallion, and Bad Bunny. In a poll, fans shared that they are most excited for performances from newcomers BTS, Harry Styles, and DaBaby, as well as GRAMMY veteran Taylor Swift.  
The GRAMMY performances will look a little different this year due to social distancing requirements. All of the performances are slated to take place at or near the Los Angeles Convention Center, with artists performing and watching each other from multiple outdoor stages. The venue's outdoor deck and surrounding streets expected to host most performances, "taking on the feel of a music festival," according to host Trevor Noah. Despite challenges posed by COVID-19, the RCA has promised that "artists will be coming together, while still safely apart, to play music for each other as a community and celebrate the music that unites us all."
In addition to the impact of the pandemic, the 63rd GRAMMY Awards will also be unique due to a fundamental staffing change: this year's ceremony will be the first GRAMMY Awards show in 40 years presented without Ken Ehrlich as a producer or executive producer. Ben Winston, who has produced the Brit Awards and the Tony Awards, has taken Ehrlich's place.
You can watch the 63rd GRAMMY Awards this Sunday, March 14th at 8pm EST / 5pm PST on CBS.