Greatest Guitarists of All Time by Colin Noughton
The topic of greatest guitarists of all time has been a commonly debated topic for almost as long as the guitar has been around! Ultimately, it's down to personal preference who each of us think is the best or who was responsible for your favorite music. Jimi Hendrix or Jimmy Page are very popular answers simply because they are both extremely well known for their bodies of work. Everyone knows the song "Stairway to Heaven," however that doesn't make it the greatest of all time. Some will argue that Hendrix is the greatest because of how he revolutionized the way the instrument was played, however other guitarists have taken his songs, made them their own and, arguably, played them better than Hendrix. I am going to list my personal top 5 greatest guitarists of all time, including honorable mentions because, let's be honest, there are quite a few that could make this list.
5. Mark Knopfler of Dire Straits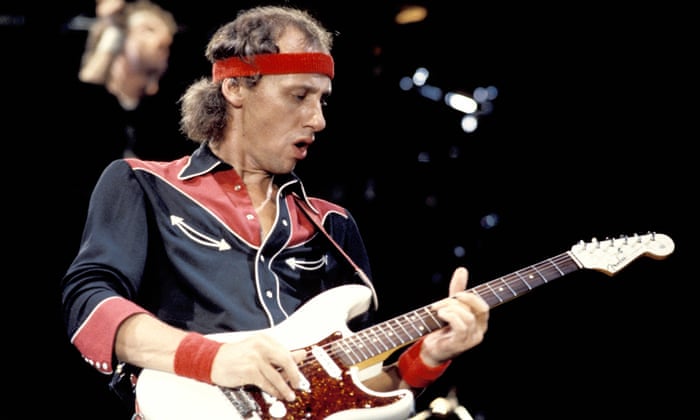 To round out my top 5, I have Mark Knopfler of the popular British rock band Dire Straits. Knopfler was the lead guitar player and singer for the band and the main songwriter. Knopfler's guitar playing style is a very unique style, he doesn't play with a pick like most guitarists do instead he uses his fingers to pluck each string. This creates a different sound than most other guitar players and makes all of Knopfler's work extremely original to him. Through this style of play he is able to put emphasis on multiple strings at a time and gives a very unique sound and tone to all of his riffs, which also makes it very difficult to replicate. Knopfler plays chords the same way, he will use his fingers to pluck each individual string of each chord he is playing which in turn creates a different sound than usual. He has a way of embellishing his guitar solos and riffs while allowing them to have a rock and roll edge. The finger picking style gives more power to each note and makes Knopfler's sound so amazing. He has such a wide range of music he can play as well, from rock to blues to folk and all of the guitar work is absolutely incredible and the solos are so awesome! He is a true master of his craft and his music is unlike anything else. I strongly urge you to give him a listen whether it be his work with Dire Straits or his solo stuff. Here is a list of some of his greatest guitar work.
"Money For Nothing"
"Brothers in Arms"
"Sultans of Swing"
"Romeo and Juliet"
"Speedway at Nazareth"
4. Eric Clapton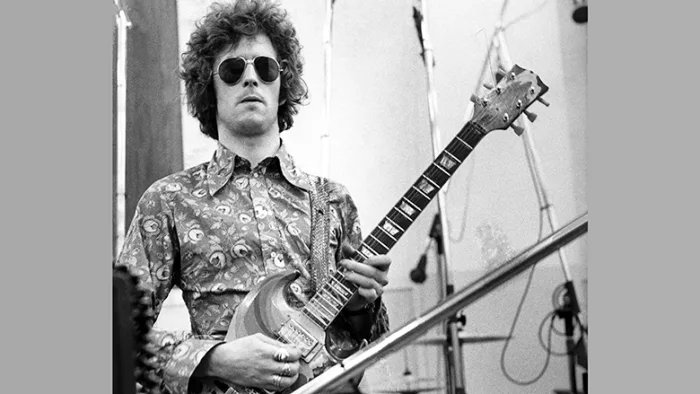 Eric Clapton is one of the most iconic and most recognizable names in music. He first came onto the music scene in the 1960's and was an instant hit, he was recognized around the world as the best guitarist ever in the 60's and 70's. People would use the phrase, "Clapton is God," which gives you a sense of just how popular he was. His guitar playing and songwriting abilities are generational talent. He is an extraordinary gifted individual who wields the guitar with the best of them. From fast paced rock and roll to slow emotional love songs Clapton can play it all. Clapton is responsible for some of the greatest guitar riffs of all time. Known for his electrifying work on a Fender Stratacaster, Clapton is also an incredibly talented acoustic player in fact I actually prefer some of his songs acoustically. When he plays acoustic guitar he adds another layer to the song, it becomes more personal and emotionally beautiful. He adds little improv solos that sound so good and serve as perfect examples of Clapton's talent as a player to be able to take a song that is usually played in a fast paced electrifying rock and roll tempo to a slower acoustic blues style. Clapton's versatility between rock and roll and the blues and electric guitar and acoustic is one of the reasons he is one of the greatest guitar players of all time. And when he plays acoustic guitar he uses a finger picking style to add a little flair and spice to the song which makes it sound so good. Clapton's live improv solos are works of musical geniusness and make you watch and listen in awe. Here are some of the best Clapton songs to give you an idea of why Clapton is revered as one of the greatest guitarists of all time.
"Wonderful Tonight" from Clapton's 24 Nights album
"Layla" from Clapton's "Live at MTV Unplugged" concert
"Tears In Heaven"
"Cocaine"
"Sunshine of Your Love" from Clapton's 24 Nights album
3. Eddie Van Halen of Van Halen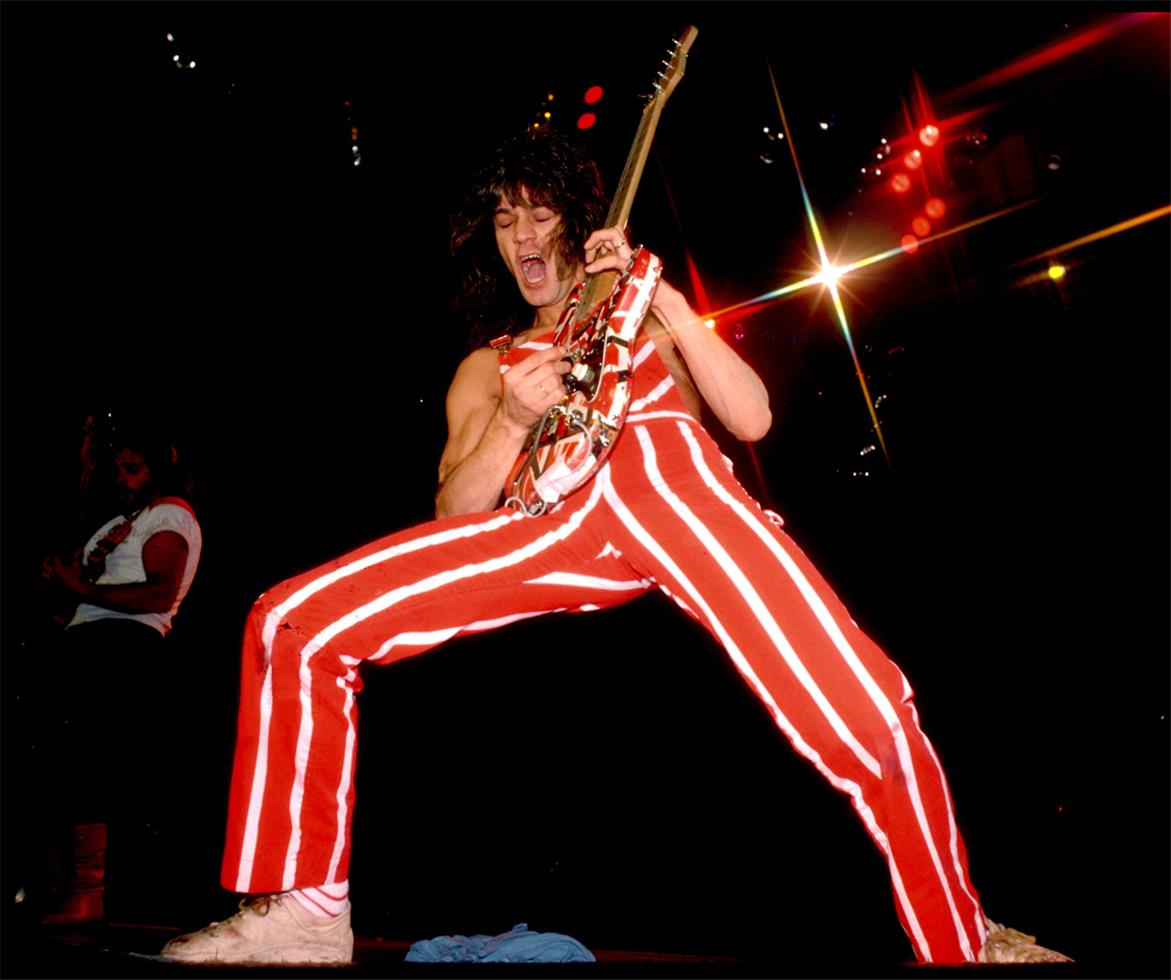 Eddie Van Halen is one of the most influential guitar players and musicians of his time. One of the founding members of the great rock band Van Halen, Eddie became a global icon creating the sounds that helped define a generation of rock music. The way that he reinvented the guitar and developed new techniques to play is unparalleled. Eddie Van Halen was famous for his finger tapping style and use of harmonics in his electrifying solos. His playing was so graceful and seamless as his fingers glided across the fretboard of his guitar. No one had ever played the way he did, his solos were incredible and left the audience in awe every time. He was one of the greatest songwriters and guitar players of all time. His music helped to define 1980's rock and roll. His playing was true rock and roll, fast paced style of play and bitchin' raw rock guitar riffs helped inspire many guitar players. EVH was such a gifted guitar player, he was able to utilize techniques no one had even thought to use before, he really changed the way the instrument was played. The stretch on the fretboard that EVH was able to get with his fingers was absolutely mad, it was almost inhuman what he was able to do. He made playing look so easy, when in actuality what he was playing was extremely complicated and difficult to replicate. He was truly a guitar god and one of the best there ever was. Some of his most famous works of music are:
"Eruption"
"Hot For Teacher"
"Panama"
"Jump"
"Runnin' with the Devil"
2. Stevie Ray Vaughan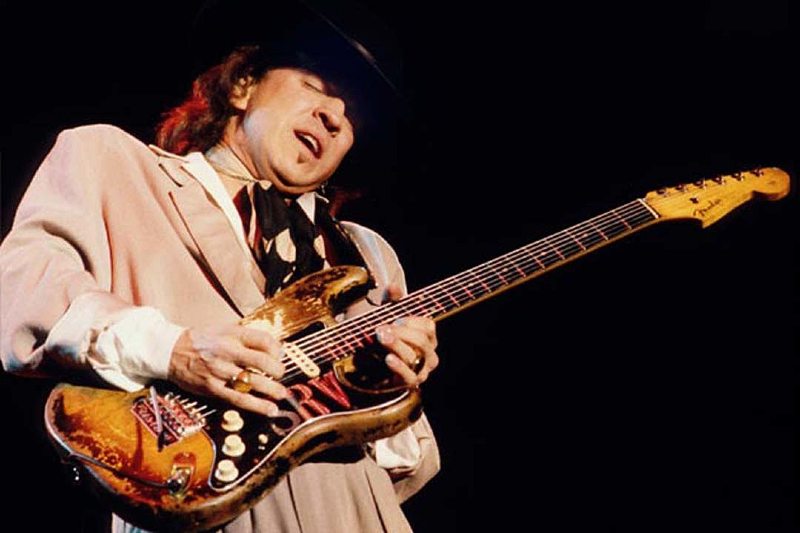 Number two on my list is the late great Stevie Ray Vaughan out of Dallas, Texas, SRV for short. SRV is the greatest blues guitarist to ever grace the stage. Stevie plays a fast paced style of Texas blues rock, inspired by blues legends such as B.B King, Albert King, Muddy Waters and Jimi Hendrix. Stevie helped to revive blues guitar playing in the 1980's but made it his own style of blues. Stevie played a music faster tempo than traditional blues guitar playing, however most blues guitarists had a rhythm guitar player that would keep a common chord progression going throughout the song and then the lead guitarist would solo over the chord progression as the song went on. Stevie however played lead and rhythm guitar on his own, he was playing two guitar parts at once which was why he played so fast paced, it also gives you an idea of just how talented he was to be able to play two guitar parts at once. This fast style of playing the blues bridged the gap between blues and rock and roll like no other blues guitarist was able to do. SRV quickly made a name for himself as one of the great guitar players of his generation. His playing was unlike anything anyone had ever seen. The blues is usually a slow tempo so that you can accent each note and really make it speak to the audience and you can feel each note touch your soul which was not something a fast paced style could usually accomplish. Stevie however had a way to make sure that his guitar and his soul were one in the same. All of his guitar playing was soul touching, he made his guitar weep with sounds of joy and sorrow at the same time. He was truly incredible to listen to and a sight to watch. When you watch videos of him play you just think to yourself, this man had a gift from God. I don't know how he was able to play the way he did, it was truly amazing what he could do with the guitar. Each note is so clean and never gets disrupted with how fast he is playing, there is no sloppiness to his work. Stevie would play Hendrix tributes that were better than Hendrix's original performances, it's absolutely incredible how amazing he was. Here are a few songs to look up by the great Stevie Ray Vaughan.
"Little Wing"
"Voodoo Child"
"Texas Flood"
"Life By The Drop"
"The Sky Is Crying"
David Gilmour of Pink Floyd
At number 1 I have David Gilmour the lead guitar player and singer from one of the most legendary bands in the history of music, Pink Floyd. Gilmour first joined the band in 1967. Pink Floyd had already made a name for themselves across London during their psychedelic years. Gilmour was originally brought in to fill in for one of the band's founding members Syd Barrett who began to struggle from drug abuse and was slowly losing his mind and unable to perform anymore. It didn't take long for Gilmour to take over as the leader of the band and create the music that would define a generation. Gilmour's first major success with Pink Floyd was his work on arguably the most famous album of all time, Dark Side of The Moon. Co-written by Gilmour and Roger Waters, Pink Floyd created songs that spoke to the average person in the world, their songs were relatable and talked of common things in life that everyone experiences. The guitar work is absolutely incredible, its sophisticated yet rock and roll with hints of blues. There's melodic chord progressions paired with soul touching solos. The album is a true musical masterpiece and really goes to show Gilmour's musical geniusness. After Dark Side of The Moon, Gilmour took the reigns as lead writer for the band. Pink Floyd moved away from the experimental psychedelic rock band that it first started as and developed into one of the greatest songwriting bands to ever create music. When you listen to their work on albums like Wish You Were Here, The Wall and Division Bell the lyrics have real meaning. Listening to the guitar work on all of these albums it really shows how Gilmour sets himself apart from the rest.
His solos are so complicated, sophisticated yet they have such a clean tone to them which is difficult to do with such complex pieces of music. He utilizes bends like no other guitarist. He can play as fast as any player or he can slow it down and really make each note touch your soul from within, bringing chills throughout your body. I am blown away everytime I listen to Gilmour play. I don't even try to figure out what he's doing on the guitar, I just sit and enjoy every second. When he plays, each note is so clear and crisp. There is never any note out of place or ringing out where it shouldn't be, every note is played perfectly and there is no sloppiness anywhere. Gilmour is such a perfectionist with his music that anytime he plays he plays perfectly without any sign of carelessness like some guitarists get once they've made a name for themselves.
Live performances are where Gilmour really stands out from the rest, when he performs live he adds to each of his guitar solos to make them better than the studio version. He usually adds several minutes of just guitar solos to each song and he never plays it the same way which really shows his talent as a player. To be able to improvise a better version of the guitar solo than the recorded version is something only the greatest players can do and Gilmour thrives at doing this. There is only so much I can say to try to convince you that David Gilmour is in fact the greatest to ever pick up a guitar. You really need to listen and watch for yourself, so here are a couple songs to listen to and videos to watch to prove to you that David Gilmour is the greatest guitar player of all time.
"Comfortably Numb" from the 1994 Pink Floyd Pulse tour
"Sorrow" from David Gilmour's "Live At Pompeii Movie"
"Wish You Were Here" from Pink Floyd's Wish You Were Here album
"Fat Old Sun" from David Gilmour's Live in Gdansk album
"Time" from Pink Floyd's Dark Side of The Moon album
These are my top 5 greatest guitarists of all time. All of these players helped to revolutionize the way the instrument is played whether that be by the techniques they use, their style of music or simply their influence on future musicians.
Honorable Mentions: Keith Richards of The Rolling Stones, Pete Townshend of The Who and Angus Young of AC/DC.
-Colin Noughton