Last night at San Francisco's The Independent (an establishment with an incredibly clever FAQ section, I might add), Joey Dosik's lengthy frame graced the stage with a sultry acoustic set of blue-eyed soul. He hopped onto stage to begin his forty minute set with an a cappella performance. Using the snaps of the audience and silence of the half-empty venue, Dosik yanked hearts from chests from start to finish. Never flat, always flowing from pop progression to soul-heavy addition, the young Dosik could do no wrong. He moved from his piano to his acoustic guitar, conversing naturally with crowd throughout the in-betweens, as a comfortable and chatty twenty-something with a voice built for church choirs.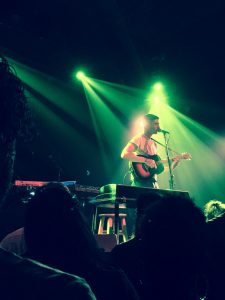 A piano man at heart, Dosik shined most when the electronic piano rhythms matched the perfect, sliding and slippery movements of his best instrument — his voice. He played mostly from his June 2016 EP, Game Winner, but did deliver some previews of his soon-to-be released debut album. "Inside Voice," a Dosik original that has been floating around the internet since 2013, was teased to the googly-eyed audience. The snaps of the audience stepped in for a soft beat in the absence of drums, making the performance all the lovely, all the more soft, and all the more matching for a song about whispers. Did this unplanned drumming addition beat out the one from the almighty Bernard Purdie two weeks prior at the 2016 Brooklyn Bowl? No, probably not, but the magic of acoustic musicality was sustained.
This initial EP release was made all the more popular by Vulfpeck's cover of the EP's title song, "Game Winner." Written during reconstructive knee surgery following an ACL tear, Dosik's physical pain moved into an ode to the Golden State Warriors on Saturday night. An obliging fan threw a  Kevin Durant Golden State Warriors jersey on stage for Dosik's final song. And in the purple lights of the now-crowded venue, a synchronized bobbing crowd moved along to new lyrics about Kevin Durant, Steph Curry and the like.