Songs to Help You Get Through Quarantine
Quarantine has been tough on all of us and it's important to stay positive and optimistic in times like these. Music has such a powerful effect on the way we see the world and because of this, we asked each of our Blog contributors to make a playlist of some of their favorite tracks throughout quarantine. The first post is from Gigmor Blog Editor, Colin. Please enjoy and stay safe, happy and healthy!
         The year 2020 has not turned out the way any of us expected it to be. In March we found ourselves in the middle of a global pandemic and were put into quarantine that has yet to be uplifted. During these times of social distancing it is very important to take care of yourself. Not being able to be around other people and hang out with friends can be very difficult not just because it was part of our routine and something we were used to doing but because it was good for our mental health to get out of the house and spend time with others. While we are all locked in our houses trying to limit the amount of time we spend outside and with other people due to COVID-19, our mental health has been tested like never before. During this time I suggest we look to the arts to help get us through it, more specifically, music. Music has always helped me with any struggles in life I have faced, there is always a song or album that will make me feel better and help me out. So here is a Spotify playlist that has helped me keep my sanity throughout this whole quarantine situation we find ourselves in.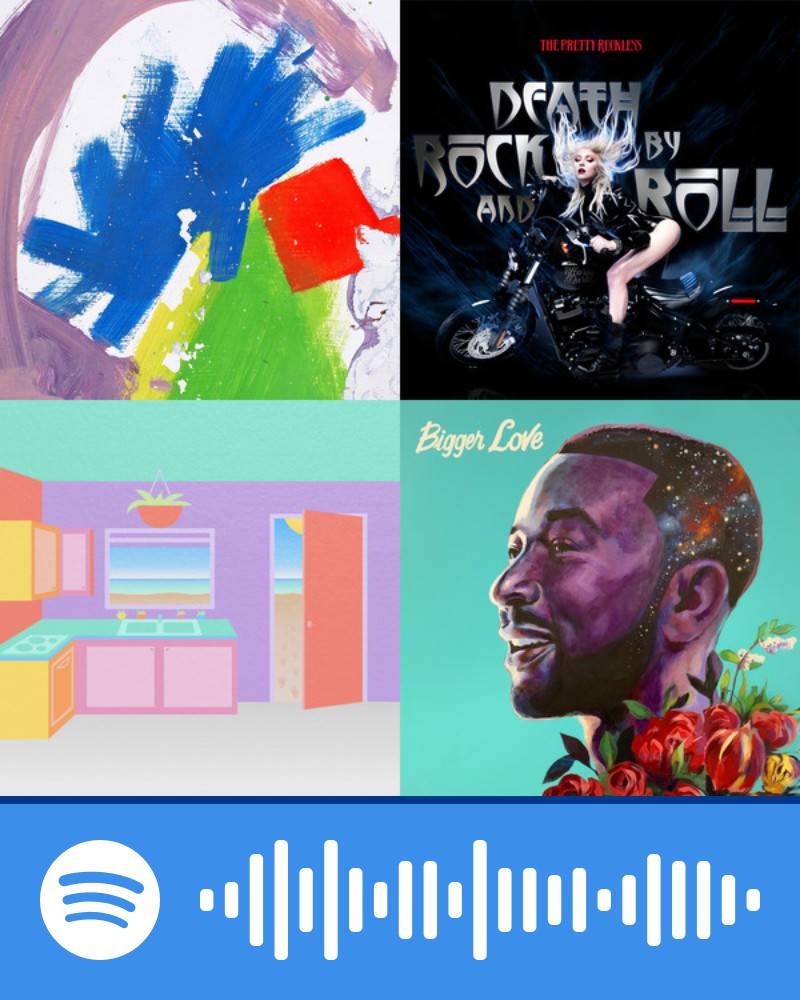 1. "Sunday Best" by Surfaces
This song has such an upbeat tone right from the start of it. It makes you feel like you will overcome any struggle. The lyrics tell us that there are going to be difficult times in life but that everything will be alright in the end as long as you push through you will overcome anything. It has such a good message to go along with very chill instrumentals. A perfect song to help anyone survive this quarantine.
2. "Left Hand Free" by alt-J
If you have a Netflix subscription then you probably watched the hit show Outer Banks that was released at the beginning of Quarantine. The show was about these care free rebellious teens that were looking for a lost shipwreck with gold on it. This show had such an amazing soundtrack filled with Surf Rock anthems that put you in a relaxing mood. This song by alt-J served as my quarantine anthem for the first few months, I would skate around the neighborhood to get some air and exercise and have this song on repeat. It really helped my worries wash away and just enjoy the little things in life and live in the moment.
3. "Death By Rock And Roll" by The Pretty Reckless
"Death By Rock And Roll" is a fast paced rock and roll song that will awaken every bone in your body. This song makes you want to get up and jump around and just let every emotion out. It's grungy, it's heavy, it's angsty and it absolutely rocks!!
4. "Wild" by John Legend (feat. Gary Clark Jr.)
"Wild" is my favorite song that has been released during quarantine. It's a slower song that highlights John Legend's incredible voice and Gary Clark Jr's amazing guitar playing. This song tells a beautiful love story. It's a song that gives happy feelings of joy and love that I think everyone should embrace.
5. "Hard Times Come Again No More" by Andrea von Kampen
This song is so beautiful in all aspects, the singing by von Kampen is stunning, the guitar work is simplified beauty that has a way of calming the soul. The lyrics tell us that we will always go through hard and difficult times in our lives but there is light at the end of the tunnel. We can't keep ourselves down we have to fight and remember that there will be better times coming soon. It's a beautiful message, we will persevere and overcome anything life throws at us and come out stronger than ever.
6. "Easy Street" by Larkin Poe
In search of a happy feel good song to listen to as you wind down your day as you sit on your porch or in your backyard and enjoy a nice alcoholic beverage after a hard days work? Look no further, "Easy Street" provides just that. It is such a great vibe all throughout. The melody is cheerful and the singing puts you in a good mood.
7. "Automobile" by Kaleo
Kaleo is probably my favorite band that I started listening to during quarantine. Every one of their songs is amazing and each one is unique on its own. "Automobile" is such a great song, the guitar riffs are soothing and fit perfectly with the vibe of the song. The singing is beautiful and makes you want to sing along, I love the addition of the whistling as well. The lyrics tell a story of getting in a car and just driving, exploring all of California, which is something I think everyone could look forward to doing while nothing else is open.
8. "Walk Away" by Ballyhoo!
Here is another great Surf Rock jam for you to enjoy. This song puts you in a care free and relaxed mood. I have this song on repeat to help me find my inner peace and fight off any mental struggles I'm having in quarantine.
9. "Chicken Fried" by Zac Brown Band
I wanted to include a country song in this list because let's be honest whether you like country music or not it does have a way to put a smile on your face and enjoy the moment. So I picked an oldie but a goodie in "Chicken Fried" this song never fails to put me in a jovial mood, enjoying the moment whether I'm spending time with friends or not. So crack open a cold one and sit back while Zac Brown sings the one country song that will make anyone a country fan, and make sure to sing along so your neighbors can hear you.
10. "Put the Gun Down" by ZZ Ward
ZZ Ward's foot stomping, head bobbing, blues rock song will have you rocking out in your home dancing around as if you were out at a bar with your friends or at a concert. This song has so much energy and groove. It absolutely rocks, really gets the blood pumping and helps take your mind off of things and just give your body and soul to the music for a few minutes.
11. "Run Like The River" by Vintage Trouble
To keep with that high energy music, Vintage Trouble gives us a fast pace song that is impossible to sit in your seat for while you listen. As soon as the first note hits your foot is stompin' and you can feel the music flow through your veins. This energy is so necessary during this time. You have to get up and move around, don't just sulk in your sorrows and lay down in bed or sit on that comfy couch of yours while you watch all of Netflix. Get up and dance around, rock around your house, make your neighbors wonder what is going on and be a little jealous that they didn't get invited to rock out with you. Have fun with this one!
12. "1985" by Bowling For Soup
Here's an early 2000's rock throwback for you. "1985" makes you think of simpler times when you had your whole life ahead of you. I love this song, it gives off a feeling of teenage angst. It's upbeat, catchy, energetic and just puts you in a good mood when you listen which is perfect for this time.
13. "Doin' Time" by Lana Del Rey
Lana Del Rey's cover of "Doin' Time" originally performed by the great Sublime, is a great song for the summer time. It's a song that gives you chill vibes and makes you want to just sit on a beach somewhere and watch the world around you. It makes you slow down and take a look around and appreciate what you have. I love this song so much, Lana did an amazing job with this one and she has such a beautiful voice. I highly recommend giving this one a listen.
14. "River" by Leon Bridges
This has been one of my favorite songs to listen to the past couple years. Everything about it is amazing. It's so peaceful, calming and just simply beautiful. Leon Bridges' voice is hauntingly beautiful and it really does help wash your worries away as you listen.
15. "Jump In the Line" by Harry Belafonte
This is a much older song than any of the others on the list but it still has such a power over me. Every time I hear this song I get happy and start dancing around. It's such a feel good song that makes you enjoy simple pleasures and is guaranteed to bring you some joy as you listen.
I hope you give these songs a listen and I hope they bring you as much joy as they bring me. Music is a very powerful art form, the most powerful in my opinion. It has a way to take over your body and soul in a way nothing else can. In such unsure and scary times it is important to take care of your mental health and find some joy in the world we live in today. These songs are a way to help you survive this quarantine and stay as positive as possible. I hope you enjoy!
-Colin
Gigmor Blog Editor