5 Ways to Easily Repurpose Your Content with Kapwing
This is a guest post from the Artist Collective Blog by Grace Windheim and Leonard Patterson.
Disclosure: I only recommend products I use myself (let alone write about them). This post may contain affiliate links that at no additional cost to you, I may earn a small commission if you purchase.
You make awesome music. You host fun livestreams. You share all types of content. Now you need to get the word out.
But with so many social media platforms out there, creating content to promote your music can be a tiring process as you jump between making static image posts, short-form promo videos, longer YouTube videos, graphics for livestreams, posters, video thumbnails…the list seems endless.
However, you no longer need a different software to complete every task – Kapwing can do it all.
What is Kapwing?
Kapwing is an online software that helps you make modern content in as few clicks as possible, and you can get started for free. You can make everything from videos to GIFs and memes, do things like subtitle videos and resize them, and much more.
With Kapwing, you can create and store your work in the cloud in addition to collaborating with band members and even editing the same projects simultaneously. Whether you're a beginner or an expert, Kapwing makes the content creation process easy.
In this article, I'll highlight five ways Kapwing can level up your music marketing game.
Resize posts for different social media platforms
Making music takes time and so does the process of sharing it online. The thought of creating a post on each of the many social media platforms out there can be overwhelming. But I'll let you in on a secret: the trick to efficient content marketing is to make one piece of content and resize it for other social media platforms. This can be done with the click of a button using Kapwing's resize function.
Simply upload your post/video or paste a link to it, then choose the appropriate output size for uploading to the different platforms:
YouTube (16:9)
Instagram (1:1)
TikTok/ Instagram Reels (9:16)
Twitter/Facebook portrait (4:5)
Twitter/Facebook landscape (5:4)
You won't have to recreate the wheel with your posts for each social media platform ever again.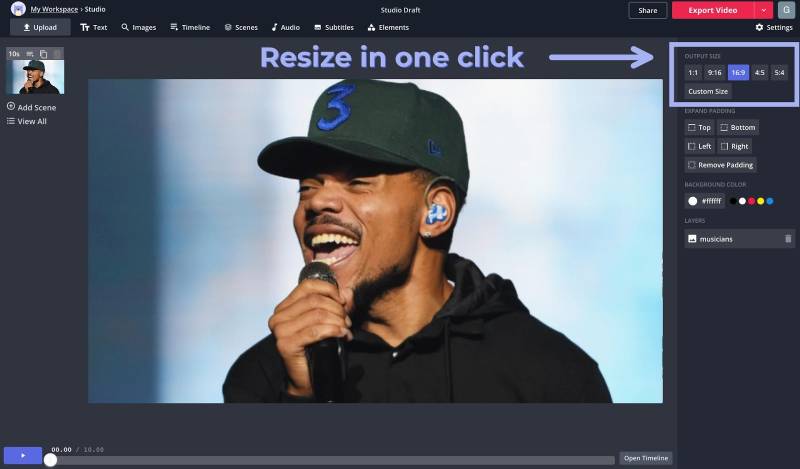 Create audio waveform videos
Want to promote your upcoming release but don't have a music video? Make posts more interesting by creating an audio waveform from a video or audio file in Kapwing. These audio waveforms graph the frequency and amplitude of sounds over time and are a great way to visualize music. Start creating professional looking promotional videos for your beats by adding a waveform here. You can also add a waveform from the main Studio under the "Elements" tab in the toolbar.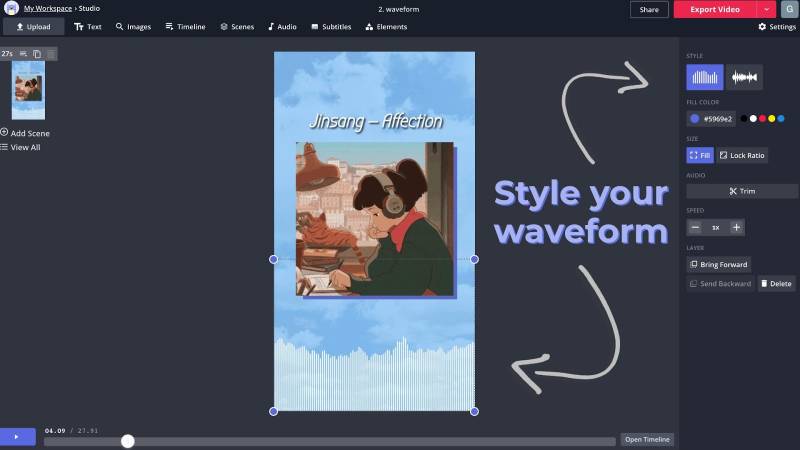 We recently ran a 5-Day Content Challenge one of the challenges included adding a Waveform to your video or image. Here's a quick walkthrough of how Kapwing works.
Create YouTube assets
Many musicians are turning to YouTube as a place to promote their music, host livestreams, and give fans a peek behind-the-scenes with vlogs. Starting a YouTube channel adds a variety of content creation tasks to your plate, and Kapwing is a one-stop shop for completing all of them.
In addition to editing the actual videos in Kapwing, you can also design thumbnails and a channel logo and header. Creating assets like a video intro, end screen, and animated subscribe button will help incentivize viewers to follow your channel too.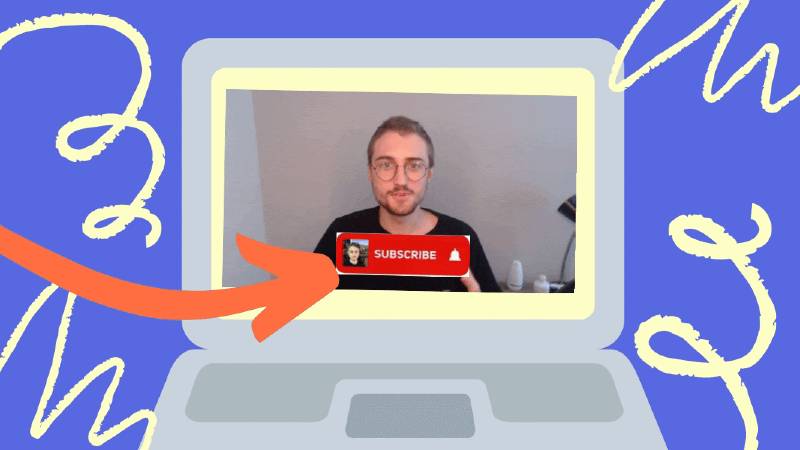 Edit TikTok and Instagram Reels videos
Short-form video apps like TikTok and Instagram Reels have become the talk of the town recently. These apps are especially great for artists and musicians as they make it easy to share songs and sounds. Many artists have even seen their work go viral as a result.
However, you can't upload your own songs easily within the app itself. Luckily, Kapwing can help you edit TikTok and Reels videos so you can get your sound onto the app. Start with uploading an existing video with your song to Kapwing, size the canvas to 9:16, add text and other visual elements if you want, then upload the video to TikTok/Reels.
Once it's posted, other people will be able to use your sound.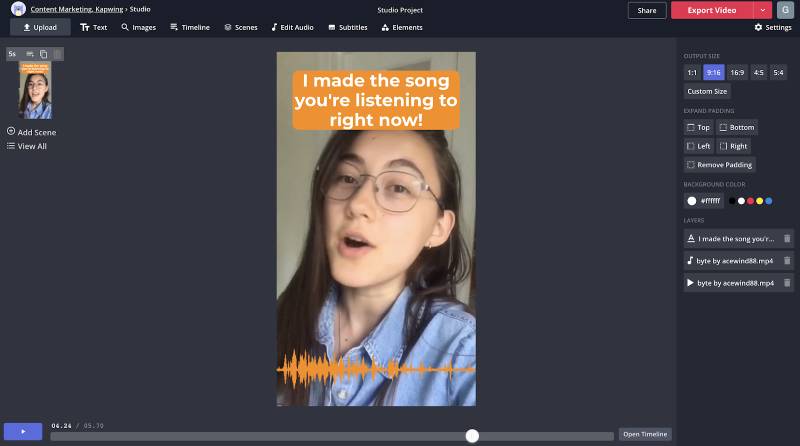 Make lyric videos
Want to highlight your latest song or track? Show off your songwriting and production skills by making a lyric video. You don't need a huge animation budget and expensive software to make one, just use the Kapwing subtitler!
Upload a music video or livestream recording of the song being played and click "Subtitles" in the top toolbar. Write out the lyrics line by line and time them out, then adjust the appearance of the lyrics to fit the video's aesthetic by changing the font, color, and more.
In just a short time, you'll have a lyric video that can be posted to any social media account.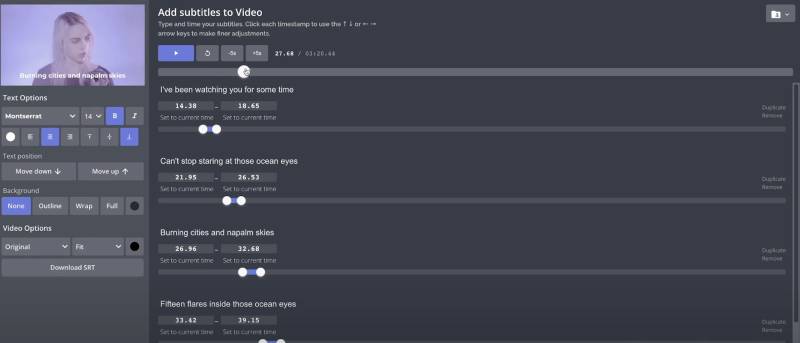 What other ways do you repurpose your music on social media?
Let us know in the comments! And for more content creation tips and tricks, find Kapwing on YouTube and check out their Resources library.
Additional Resources you may find helpful…
++ How To Add Music To Your Instagram Story
++ Facebook's [not new] Music Guidelines – What You Need to Know
++ Live Streaming for Musicians
————————————————–
Leonard Patterson is a former front-man for a 6-figure party band, a booking agent with 1000's of shows under his belt, and a certified digital marketer. As the Head of Content Marketing at The Artist Collective, his mission is to help indie artists and bands create, curate, and automate their social success.
Subscribe to the Artist Collective YouTube Channel for time-saving tips and livestream strategies so you can get back to the music.