Facebook Music Guidelines – What You Need to Know

WHY FACEBOOK'S POLICY ON USING MUSIC IN VIDEO HASN'T CHANGED BUT YOUR LIVESTREAM STRATEGY MIGHT NEED TO.
Countless articles have been published across the web leading us to believe that Facebook has "new" music guidelines going into effect on Oct. 1st. These reports claim that — among other things — Facebook will start "banning music in livestreams."
As someone who's seen and personally visited Facebook jail before, let me assure you – these updates are. not. new.
Facebook music guidelines have not changed; nor will they on October 1st.
This article will take a deep dive into the updates and help you determine if your content strategy may need to change.
++ Live Streaming for Musicians
A Quick Music Guideline Timeline for Facebook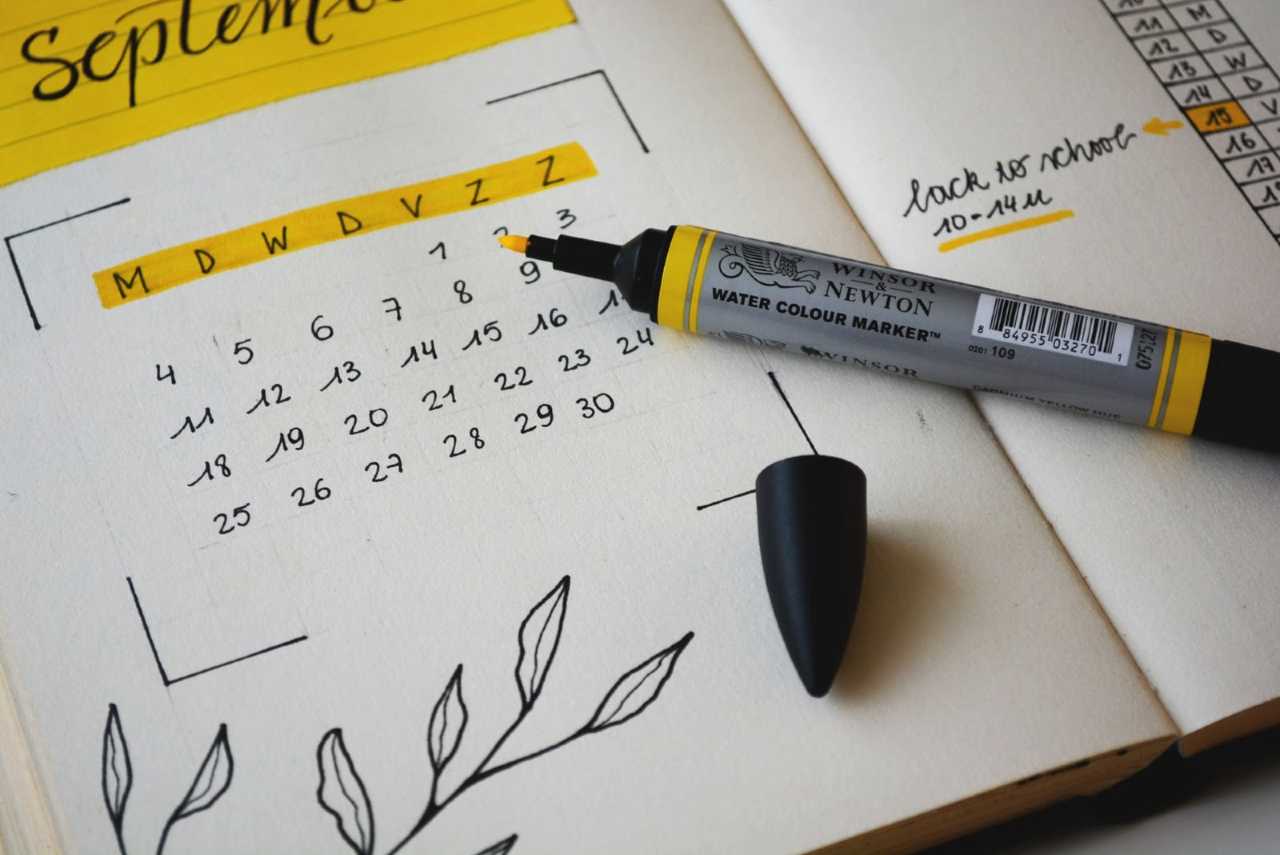 Here's a timeline of Facebook's Music Guidelines and what you need to know.
2018 – United States legislation signed into law The Music Modernization Act aimed to modernize copyright-related issues for music and audio recordings due to new forms of technology like digital streaming.
2018 – Facebook publishes its Music Guidelines in an effort to balance its commitment to supporting musical expression also ensuring they stick to their agreements with rights holders.
2020 (March) – The pandemic shuts down entire industries, including the music business, forcing artists and musicians to turn to livestreaming and online concerts for connection and income.
2020 (May) – Facebook publishes an Updates and Guidelines for Including Music In Video article that breaks down exactly what can be used in recordings and livestreams.
2020 (September) – Facebook announces new Terms of Service (TOS) that has ONE line change that discusses their ability to remove content:
"We also can remove or restrict access to your content, services or information if we determine that doing so is reasonably necessary to avoid or mitigate adverse legal or regulatory impacts to Facebook."
This is the only sentence that will be different come October 1st, but it happened to be the first time a lot of musicians saw the 2018 guidelines.
++ Stay Productive During Quarantine
How Are Artists and Musicians Impacted?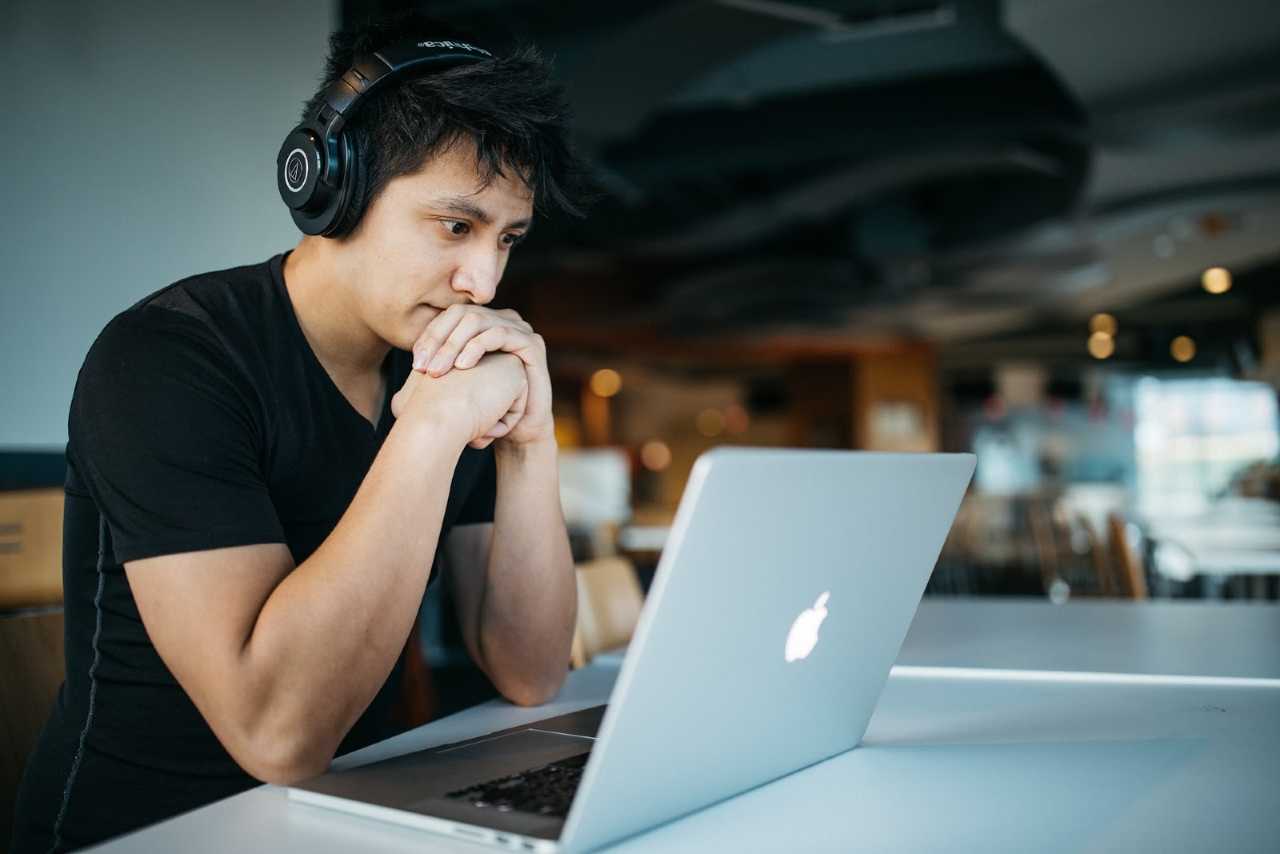 2018 Music Guidelines
In the 2018 guidelines, it has some very ambiguous threatening phrases that, if read the correct way (or the wrong way), sound very ominous for independent musicians.
For example:
"Use of music for commercial or non-personal purposes, in particular, is prohibited unless you have obtained appropriate licenses."
In plain English, it sounds like, "don't use other people's pre-recorded music," but it's never spelled out like that. And by the way, this is not legal advice (I'm required to say that, correct?)
The very next section though is what's been quoted in many articles…
You may not use videos on our Products to create a music listening experience
We want you to be able to enjoy videos posted by family and friends. However, if you use videos on our Products to create a music listening experience for yourself or for others, your videos will be blocked and your page, profile or group may be deleted. This includes Live.
Understandably, that whole section sounds very restricting. Especially not being able to use videos to "create music listening experiences" and "this includes Live."
But it's actually not all that confusing once you consider the timeline.
The reason we didn't get all shaken up about the guidelines in 2018 is twofold — (1) we didn't (as a whole) actually see them and (2) we still had venues, clubs, and festivals and weren't depending solely on livestreams.
May 2020 Clarification
Facebook's clarification in May 2020 was the very plain language explanation we needed and came on the heels of 2 months of 1000's of livestream concerts, festivals, and events.
In this post, what we can and cannot do is spelled out a little more clearly…
While the specifics of our licensing agreements are confidential, today we're sharing some general guidelines to help you plan your videos better:
Music in stories and traditional live music performances (e.g., filming an artist or band performing live) are permitted.
The greater the number of full-length recorded tracks in a video, the more likely it may be limited (more below on what we mean by "limited").
Shorter clips of music are recommended.
There should always be a visual component to your video; recorded audio should not be the primary purpose of the video.
So for the most part, Facebook isn't going to ban your livestreams but you still might have some desicions to make. Here's the bottom line for using music in video…
Using anyone else's PRE-RECORDED MUSIC in your video or livestream is prohibited. This is one of the main reasons the Music Modernization Act exists.
However, according to Facebook music streaming guidelines (which are somewhat in line with sites like Twitch and YouTube)…
PERFORMING A COVER of someone else's music is permitted as long as you or someone is playing the instrument.
What Does That Mean for Your Streams?
Anyone using pre-recorded tracks or songs in their recordings or livestreams are running the risk of being muted (in whole or in part) or possibly having the content deleted.
++ Promote Your Livestreams on These Sites for Free
Here's an example of a message on a livestream that was broadcast in April.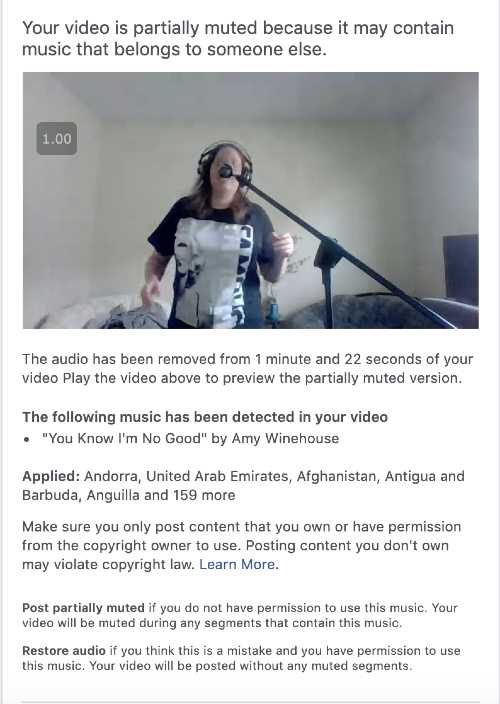 The notification which appeared after the livestream had ended goes on to provide two options:
Post partially muted – This is the option you'd choose if you do not have permission to use the music. The video will remain published but will be muted during any segments that contain the song in question.
Restore audio – Choose this option if this was truly a mistake and you have permission to use the music. Your video will be posted without anything muted.
This has probably impacted you in some way if you are in any of the following categories…
DJs streaming their live sets from various artists
Singers performing to recorded tracks to cover songs

Note – purchasing karaoke or instrumental tracks will not protect you from these guidelines.

Musicians playing along to instrumental tracks of cover songs is still pre-recorded music and not allowed.
Facebook is also taking strides to notify artists during a broadcast if a livestream will be removed.
This will allow musicians time to adjust or end their livestreams. Plus, Facebook also claims they'll make it more clear what actions you can take to prevent the interruption.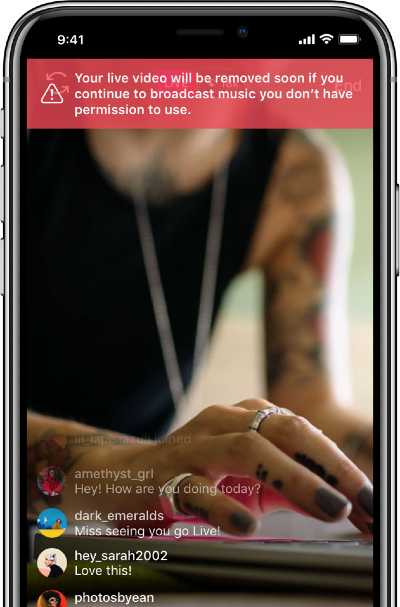 ++ Turn Your Audio Into Visuals With The Wavve App
Figuring Out Your Livestream Strategy
Live video is still the BEST way to reach your fans, regardless of how your livestreaming or content plans are affected.
Here are a few reasons why:
82% of people prefer live video from a brand over standard social media posts. (Livestream)
70% of consumers who live stream do so at least once per day. (IAB)
Going live is only one type of content, but it will help you connect with your fans the quickest. Don't get caught thinking that 2020 is a wash. Obviously a LOT is going on, but this is just the beginning…
By the end of 2020, live streaming is expected to account for 82% of all internet traffic. (Go-Global)
With the launch of new features like charging for livestreams via paid online events, the ability to stream up to 50-person messenger rooms, and a wider rollout of Twitch-like monetization with Facebook Stars, it's obvious to me they are well aware of the need for musicians to express themselves and make a living in the process.
If you're just getting started with your livestreams or want to get creative with your current process, grab my free Livestream Checklist.

It is a step-by-step guide that walks you through what to do before, during, and after your livestreams. Head over to ArtistCollect.com/GoLive and download yours today.
——————
Leonard Patterson is a former front-man for a 6-figure party band, a booking agent with 1000's of shows under his belt, and a certified digital marketer. As the Head of Content Marketing at The Artist Collective, his mission is to help indie artists and bands create, curate, and automate their social success.
Subscribe to the Artist Collective YouTube Channel for time-saving tips and livestream strategies so you can get back to the music.