We're proud to announce that AMERICAN IDOL® has partnered with Gigmor for a second year in a row! Idol producers are looking for the #NextIdol for their upcoming season. Gigmor artists can apply for a Front of the Line Pass at 22 regional American Idol auditions which begin in just a few weeks!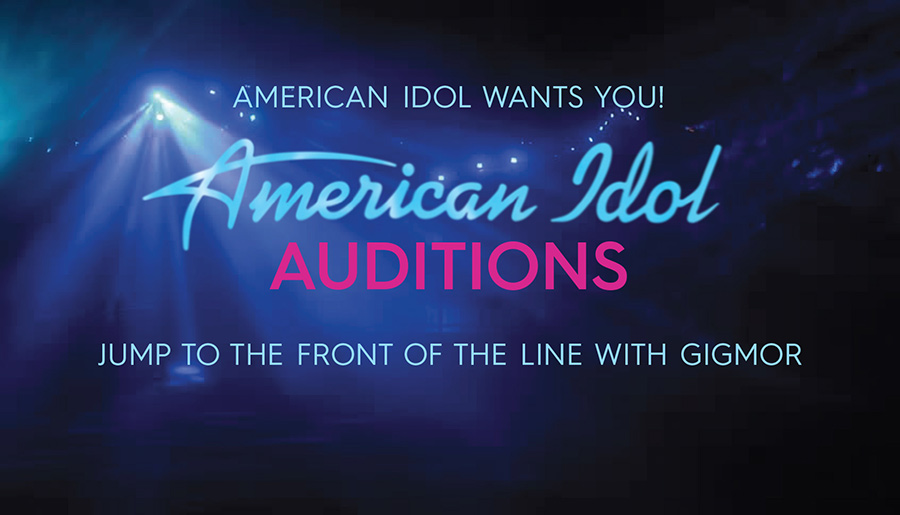 Check below for the audition closest to you!
July 23: New York, NY
August 20: Mobile, AL
August 23: Macon, GA
August 23: Tallahassee, FL
August 23: Santa Barbara, CA
August 25: Baton Rouge, LA
August 26: Columbia, SC
August 26: Las Vegas, NV
August 27: Waco, TX
August 29: Knoxville, TN
August 29: Salt Lake City, UT
September 1: Colorado Springs, CO
September 1: Raleigh, NC
September 4: Washington, D.C.
September 4: Wichita, KS
September 6: San Jose, CA
September 7: Pittsburgh, PA
September 7: Springfield, IL
September 8: Spokane, WA
September 10: Detroit, MI
September 18: Nashville, TN
September 21: Chicago, IL

Our mission is to help indie and unsigned artists grow their careers. We are absolutely thrilled to be working with the talent producers at American Idol. Make sure your profile is complete and then head over to the gigs page. Look for the American Idol auditions posts and apply away!
From the archive: Music Marketing for the Independent Artist