Guest post by Leonard Patterson, originally published on IndieBandCoach.com
If there's one thing that's needed right now, it's for artists to be able to express themselves. If we're going to turn this "mess" into a "message", it's going to involve music. One of the ways I like to repurpose content is with the Wavve app, so I wanted to introduce it to you. I wrote a blog post about it in 2019 and updated it earlier this year.
So whether you are writing a protest song, sharing your message on a podcast, or starting a new YouTube series to express your opinion, I encourage you to get creative and get your message out there. A lot of musicians are out of work and there's no telling when (if ever) things will get back to normal.
++ Help Gigmor Find Musicians Paying Gigs
WAVVE MAKES IT EASY FOR INDIE ARTISTS TO SHARE THEIR MUSIC AND THEIR MESSAGE BY TURNING SONGS INTO SOCIAL VIDEOS FOR INSTAGRAM, FACEBOOK, YOUTUBE, & MORE.
This post contains affiliate links for any paid plans on Wavve. Indie Band Coach may receive a commission for purchases made through these links.
Video: It's No Longer Just "Nice to Have"…
As an Indie band or musician, promoting yourself and your music on social media can feel like an uphill battle. Social media is becoming an ever increasing noisy place and it takes great content to stand out.
One of the best ways to connect with your fans on social media is with video. All of the major social media platforms are turning their algorithms to promote video content because that's what your fans are watching. In fact, Facebook alone generates 8 billion video views on average per day (Social Media Today) and native videos on the platform have 10 times higher reach compared to YouTube links (SocialBakers.com).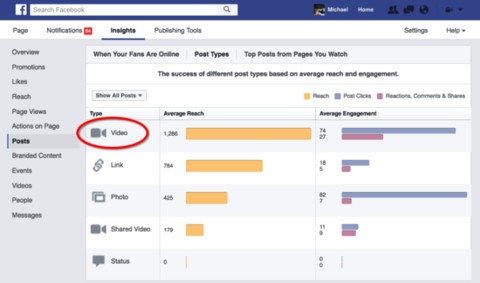 Unfortunately, most indie bands are on a budget which means things like professional music videos and promo videos seem too far out of reach. But having videos as part of your music marketing is no longer something that's just "nice to have", it's a must.
Even if you're an iMovie pro, uploading video files, overlaying your music, and editing it all together can be a time-consuming task. That's why I'm always looking for innovative ways to help you promote and share your music and livestreams online.
And the good news? We came across an awesome online platform called Wavve which will help you quickly 'up' your video content game and is a great tool for livestreaming for musicians.
Social media graphics, video, and promotional content just got easier. If you are an indie musician trying to grow your fanbase and promote your music, this tool can help you make it look like a million bucks.
What's Wavve?
Wavve is a web application that helps you easily combine a clip of your favorite track with an image to create animated videos formatted for social media. Wavve offers a library of waveform animations to choose from when designing your video that "move" with the audio so fans will know it's a video that has sound.
Check out how DTOWN used his album artwork and new single to create an Instagram video with Wavve.
Are you not on Instagram yet? No worries, your Wavve account comes with options designed for all social media.
++ How to Succeed on Social Media with Consistency
Within Wavve you'll upload your content into "card templates" which determine exactly what your video will look like. You can save these templates to your account and update/edit them anytime you want:
Horizontal: This video size is perfect for Youtube & Twitter.
Square: Great for Instagram & Facebook
Vertical: Perfect for Instagram Stories & Snapchat
Once you select a size, all you need to do is upload an image and add the animated sound wave (8 styles to choose from). You can adjust the size and shape of the sound wave, change its color and place it anywhere on the image you'd like. Wavve also allows you to add additional text directly on the image.
Here's a quick video on setting up your first Wavve social video…
Get started and setup your account here.
Once your template is set up how you want it you simply upload your track, trim it down, and Wavve generates the .mp4 video. You're only about 5 minutes from a promo video for your next single that you can share with your fans!
++ HOW TO GET MORE FANS TUNED IN TO YOUR BAND
Here's just a little design inspiration from music makers using Wavve:


Country artist Stoney LaRue used Wavve to help promote some of his Summer tour dates.
Including a soundwave graphic on the post helped his fanbase know they could also hear his track. Even if you have a blank image, you can still add text and even captions within Wavve.


Toronto-based DJ/Producers Funk X Rish used Wavve to premiere their new mix on Instagram.
Adding the animation on top of your album art would be a great way to keep your branding while also introducing clips from your release.


LitSounds is a group of music creators in the NYC area. They used one of the new soundwave animations to highlight their latest drum loops.
Take advantage of the new features in Wavve to create quote graphics or even string several videos together to make a short lyric video.
If there's any doubt that your fanbase is listening and watching, consider this: More video content is uploaded in 30 days than the major U.S. television networks have created in 30 years (Source: WordStream).
Some of the newer features included in your Wavve.co account include full customizable progress animations. Check out this video from the Wavve.co YouTube channel that shows you the various uses and styles of progress animations.
Get Wavve
In my role as a booking agent and band manager, one of the most frustrating things I notice is that a lot of really great, hard-working musicians have very little music on their social sites.
Pictures are great and stories are awesome. But whether it's your next single, an upcoming tour, or your new Spotify playlist, your fans are begging for you to make video and livestreaming a consistent part of your music marketing.
Wavve is free to try by signing up here. You'll be able to upgrade when you want to start creating longer videos and posting more content per month.
More from the Gigmor Blog:
++ Product Update: Gig Booking Calendar
————————————-
Leonard Patterson is a former front-man for a 6-figure party band, a booking agent with 1000's of shows under his belt, and a certified digital marketer. He launched Indie Band Coach with a mission to help indie bands create, curate, and automate their social media to share their music and get better gigs. Subscribe to the Indie Band Coach YouTube Channel and get more tools, tips, and training to help you on your journey.