Many just met Francis Farewell Starlite of Francis and the Lights. To the many, he was just introduced to the mainstream music scene by hip hop's youngest prophet, Chance the Rapper. Francis and the Lights wandered between the ears of Chance's dedicated followers as the opening melodic, electronic mumblings to "Summer Friends," the third track on Chance's Coloring Book. Quickly, and then perhaps purposefully, Francis and the Lights became to Chance what Justin Vernon is to Kanye: a softer, electronic-heavy hype man production artist with a portfolio speckled by all genres of music.
Justin Vernon has offered hi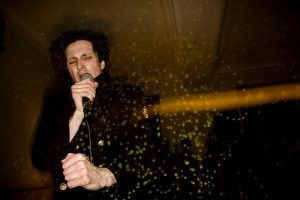 s musical mastery across all named genres of the music industry. He went from "Skinny Love" to the Staves to Volcano Choir to the confusing, haunting madness in Kanye's 2010 My Beautiful Dark Twisted Fantasy. Francis Farewell Starlite is more or less the same. From his underrated 2013 EP Like a Dream to his film score for Robot & Frank to the quiet genius of his production on Drake's Thank Me Later  and Donnie Trumpet's Surf, it's clear that what he has is pure, unexaggerated talent that won't be tarnished by the selfish lover that is fame.
Farewell! Starlite is now streaming for free on the Francis and the Lights website and Apple Music as well (if you too have sold your wallet and soul to the bigger man of poor music streaming sites). A generous, overeager fan such as myself will tell you to drop everything — ignore all else!! — until you hear Starlite's long-awaited release. And a new, Chancellor the Rapper groupie would probably tell you the same.
It's by far one of the most original albums of the year, and is most succinctly described as a detail-oriented, thought-provoking, somewhat haunting 40 minute playlist from inside Francis Starlite's hidden, enigmatic person and mind.
The Internet activity surrounding Francis and the Lights isn't heavy, but it still remains cult-like. Francis's black-and-white, typically unexplainable music videos drew original, quiet fandom. That was 2013. This is 2016, when artists like Kanye West, Justin Vernon, and Chance the Rapper are drawn closer to Starlite's magic. And in 2016, the music videos and music remain magical: minimal with the overwhelming ability to captive listeners with untouchable simplicity.
With detailed and disciplined choreography, production, style, and presentation, Francis Starlite has been basking in his quiet genius for over a decade now. He has been lurking in the corners of Spotify and Soundcloud, buried deep in the production notes of Drake's or Birdy's or Donnie Trumpet's respective albums. But we learn then, through dear Francis, that with patience and humility comes power, grace, and an almost perfect understanding of one's craft.
Calculated but not intentional, delicate but tough, the album stretches and expands to the hearts and ears of its listeners. Take a look and a listen: whether he is interested or not, Farewell! Starlite is about to propel itself to indie stardom.